Highlights
Plastics Summit - Global Event 2022
Subscription of the Position Statement
The Position Statement is a blend of recommendations and commitments that are segmented into four main lines of action: regulatory and legislative process, ocean pollution, sustainable products and green claims and carbon neutrality. It is intended to have a core contribution to the pursuit of sustainable development goals (SDG 12 - Sustainable Production and Consumption, SDG 13 - Climate Action and SDG 14 - Protect Marine Life), circular economy, and efficient use of resources.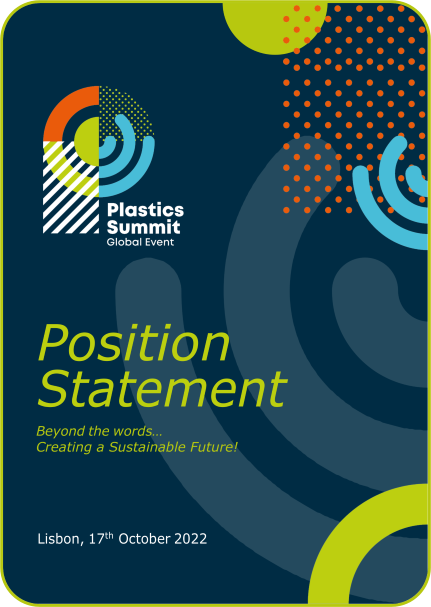 The Position Statement "Beyond the Words… Creating a Sustainable Future!" is a core outcome of the Plastics Summit - Global Event 2022 (PSGE 2022), resulting from a holistic and cross-sectorial vision on actions to improve circular economy and environmental sustainability.
The Position Statement was structured and developed with the participation of the committee members of the Plastics Summit - Global Event 2022 organization (APIP) together with 80 personalities, including speakers from each panel of the PSGE 2022 and members of the Expert Committee. In this context, several meetings were held to obtain feedback and share ideas resulting in the final position statement
The Position Statement can be subscribed by any person (individual or collective) and it is aimed at all stakeholders involved in the value chain, from raw material producers to consumers, including services, industry (manufacturers, recyclers, end-users and logistics) as well as other parties such as academia, governments, regulators, NGOs and civil society. Furthermore, this Position Statement will be presented to policy makers and international organizations, with the aim of contributing positively to local, regional, national, and global policies.
Don't miss the opportunity to take part of this initiative.
Suscribe now!

DOWNLOAD
subscribe now!